Welcome!
Our mission is to provide you with the best promotional products possible. We work with premier Suppliers, and are dedicated to providing you with top quality promotional products to help ensure the success of your business. Our experienced and highly trained staff are ready to take on your marketing needs.

No matter what your budget is, we have a solution for you!

Please, take a look around this site for that perfect item for your next promotion. And better yet, give us a call so we can get started on your project now.
Featured Item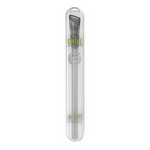 Chill™ Cooling Pour Spout (Clear/Gray)
Cool, pour and preserve with the Chill. Just pour the first glass, insert the cooling pour spout and enjoy perfectly chilled wine! After just two hours in the freezer, your Chill is ready to do the ha...